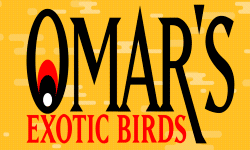 LAKE FOREST
23507 El Toro Rd.
Lake Forest, CA 92630
BREA
903 E. Imperial Hwy.
Brea, Ca 92821
VISTA VILLAGE
410 Vista Village Drive,
Vista CA. 92083
HOURS (Vista Location Closed Mon & Tues)
M-F: 10am - 5pm
SAT: 10am - 5pm
SUN: 10am - 5pm
Boarding at CAMP OMAR'S
Reservations are required so please call ahead for availibility.
Additional charges may apply for special requirements and handling.
All Birds
$30.00 per night in store cage
MED.BIRDS OWN CAGE
$28.00 per night
Small Birds in Their Own Cage
$22.00 per night
Each Additional Small Bird in the Same Cage
$14.00 per night
Boarding Your Bird
If you need to travel and leave your bird behind, be assured that the birds at CAMP OMAR'S receive the best possible care in a clean, safe, supervised environment. Boarders are surrounded by other bird friends, visiting customers and the OMAR'S staff. In fact, OMAR'S has discovered that birds experience less separation anxiety when surrounded by other birds and that ensures your return to a happy pet.
CAMP OMAR'S welcomes all birds as long as they have been tested for Psittacosis, Polyoma and PBFD. At check in, boarders are evaluated with their owner to ensure their stay at OMAR'S is as comfortable as possible. Special requests are welcomed, such as a special diet or favorite toy.
Should a bird become ill during its stay, OMAR'S has an experienced staff to assist in its care and avian vets on call. Boarding rooms are monitored, alarmed and secured with steel gates at night.